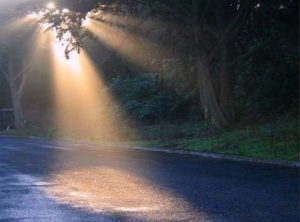 Every once in a while I miss reading actual books because you cannot highlight and write in audio books. I am a highlighter of books. If you ever borrow one from me, they will have marks and double underlines and "yes" and "Amen" written in them. When I switched to the world of audio books because I have a toddler who refuses to sit still, I find I miss being about to go back and reference lines or quotes from the books. Occasionally, something hits me so hard, I hit pause, reverse, and hit pause again to write down a line. Near the end of one of my most recent "reads", I did exactly this because the line the author wrote and was now reading hit me square in the face. The entire book, entitled "Breaking Busy" by Ali Worthington, was incredible. If you are an over-scheduler, Type A personality like myself, I highly recommend it.
"You do not have to strive endlessly to be good enough or to find God's plan for you. When you stay focused on God, you will not miss your destiny. "
Oh sweet friend how those words washed over me like water on the ocean shore! As tears welled up in my eyes, I realized this was exactly where I had been all these years. Striving to be good enough. Striving to be worthy enough. Striving to fit in. Striving to reach a dream which felt so far out of reach. And in all my striving, I lost focus on the One who loves me unconditionally. Who died on the cross and opened His arms to me with no strings attached. Those of us who grew up in the church could probably quote Jeremiah 29:11 forwards, backwards, and in our sleep. It's one of those verses we just like to call on for all variety of situations. "For I know the plans I have for you, declares the Lord, plans to prosper you and not to harm you, plans to give you hope and a future."  But so many times we stop there. We stop with the promise – God has plans for us. And somewhere, we get all caught up in trying to figure out what those plans are and how to accomplish them. We add to our resumes, to our knowledge, to our calendars, all in an effort to pursue this ever elusive plan God has for our lives.
But what if we are completely missing the point? Perhaps the verses we really need to memorize forwards and backwards are the ones following Jeremiah 29:11. The next two verses say, "12 Then you will call on me and come and pray to me, and I will listen to you. 13 You will seek me and find me when you seek me with all your heart."  God promised us a future, but it is not a future we are to strive for on our own. Our future plans come when we seek and find God, when we call on His name, when we spend quiet moments in prayer. He never intended for us to move ahead on our own. The verse doesn't say I promised you a future and the only way to get there is to have the perfect resume, the perfect network, and the perfect wardrobe.
No, sweet friend, God is calling us to a different path. A path often unknown and perhaps a bit scary. A path which for me has been a struggle to find because it is a path I cannot control. I cannot work hard enough, hustle fast enough, volunteer long enough to get there. I won't find my way on my own. My dreams will lay in shattered pieces around a broken soul, tired by the striving, until I sit at the feet of Jesus and offer Him it all. Until I seek Him with my whole heart. Only then will the path start to make sense. Only then will my feet begin to walk and skip and run again.
If you, like me, struggle to be quiet in a world calling us to strive harder, I encourage you today to start small. Sit in quiet for one minute. Reflect on Jeremiah 29:12-13. And together, lets stop striving and start seeking.