Utopia: An ideal place or state, any visionary system of political or social perfection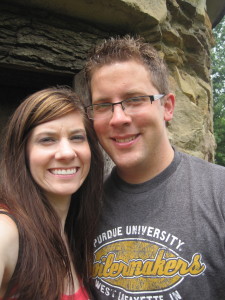 Over the 4th of July holiday, Jordan and I ventured over to New Harmony, a small community that began as an experiment in utopia. Today it is a quaint little town full of cute houses, antique stores, and history on almost every corner.  Jordan knows me well and suggested we grab our bikes and head over there for the day. He had found an ice cream store he wanted to go to and well, I am always up for an adventure, even if it's just down the road.  We got to New Harmony right as a golf cart parade was starting to kick off celebrating the 4th and walked through the visitor's center which is the one building that so does not fit in the spirit of New Harmony.  It's big, white, and modern, but offered some replicas of what New Harmony used to look like which fascinated me. Every house had a garden and it made me wonder what life must have been like. I imagine it was a lot simpler and peaceful.
We grabbed our bikes and rode around the little town stopping at the roofless church (a historic site), the granary, and the labyrinth. It was a perfect morning for a bike ride and the town was pretty quiet after the parade so we had the roads mostly to ourselves.  After an hour or so of riding, we grabbed lunch at the cutest little store. It is called Vintage Harmony and I HIGHLY recommend it. They only serve wraps and ice cream, but really, what more do you need?  The food was excellent!  We finished our lunch and walked through several antique stores. I even got a lesson in playing the dulcimer. We finished the day with ice cream from the same little shop we ate lunch. They make their own from scratch and it was some of the best ice cream I have ever had!
After our little adventure in New Harmony, I realized how much I enjoy history and traveling, even if the trip is less than an hour.  It seems everyone in New Harmony had time to say hello, tell you their story, or teach you to play an instrument.  I think despite the failure of the utopia, a strong sense of community has rooted itself in New Harmony.  I was also reminded of how much I love Jordan.  We rarely get a day off together and it was so nice to be able to spend the day laughing, chatting, and spending time together.
It was a perfect day and a wonderful reminder of how much I love the simplicity of life.  I came back re-focused, refreshed, and relaxed.  It was an ideal day and something I need to do more often in this busy life.
Have you taken an adventure in utopia lately?  I promise you it will be worth it!