A few days ago, I sent a group of friends a picture of part of my kitchen. I have included it for full-disclosure. I would like to write a long post about how this was a rare sight and normally my kitchen is perfect, clean, and could be found on Pinterest, but far more often, the picture is the reality.
I imagine, for a lot of you, your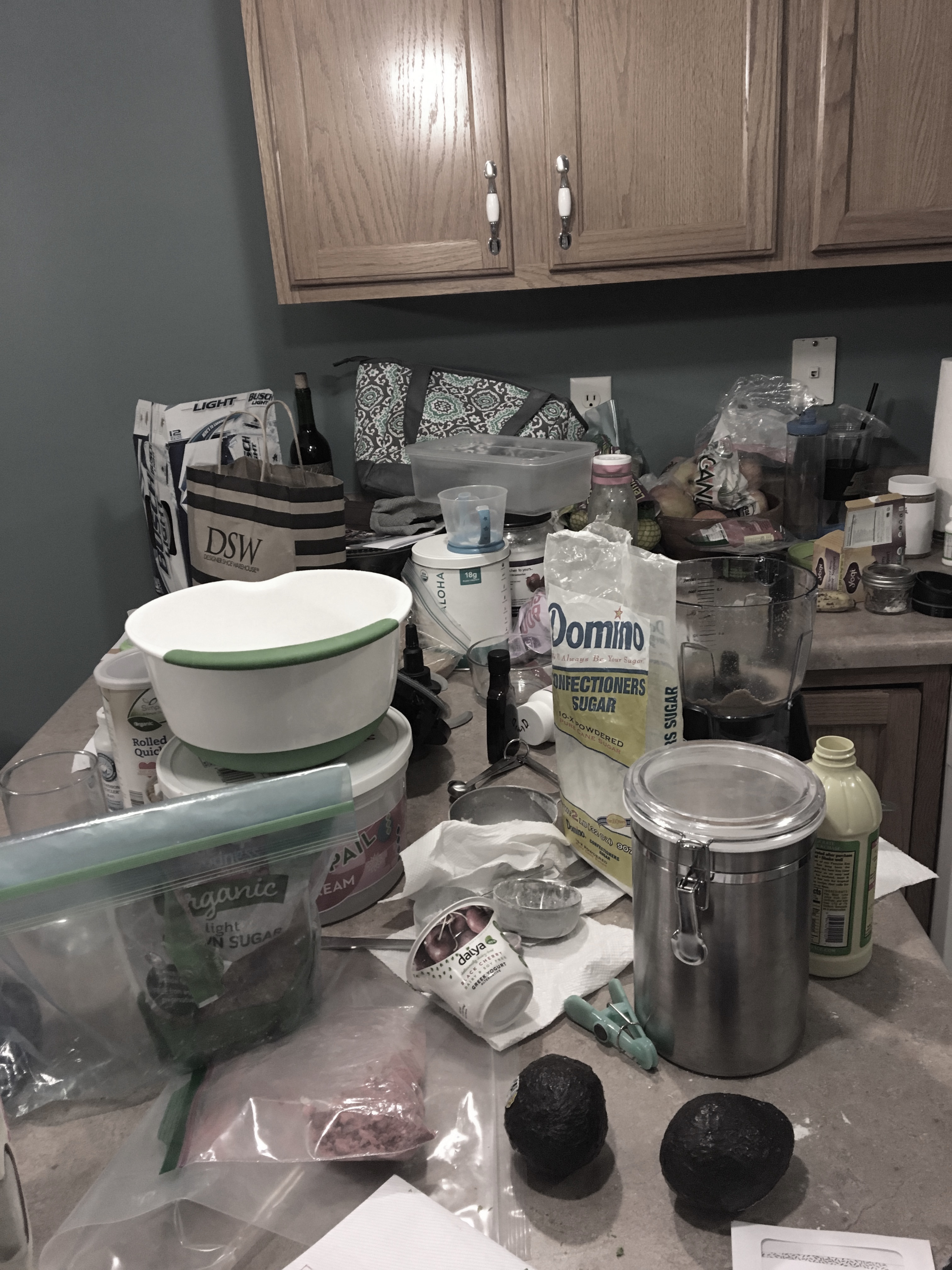 day-to-day reality may look similar to my kitchen. Perhaps it's a different room in your house or perhaps it's a part of your soul that feels messy and disorganized.  It's a part of your life you will never find on social media. And I get it. I have spent countless hours attempting to clean up my house, my life, my resume and picturing what life would be like when I just got "there".  When I had the perfect house, the perfect job, the perfect group of friends, the perfect life.  I had created a version of my ideal self in my head and spent so many hours striving towards becoming like the image in my mind.
Sometimes I caught a glimpse of my ideal self in real life. In fleeting moments, she would show up and I would feel as though I was finally getting somewhere. My striving was finally paying off.  To my delight, I went to a conference and the speaker started her talk by asking us all to imagine our ideal selves. Oh, I had this one down. I knew exactly who the ideal Amanda was and could write you a book on her life. I could also write you a book on the guilt and regret and shame I carried around because my everyday self seemed so far from this version of my ideal self.
After a long lead up, the speaker said "your ideal self is not your most influential self."
Read that again and let it sink in. "Your ideal self is not your most influential self."
2 Corinthians 12:9-10 says "9 But he said to me, "My grace is sufficient for you, for my power is made perfect in weakness." Therefore I will boast all the more gladly about my weaknesses, so that Christ's power may rest on me. 10 That is why, for Christ's sake, I delight in weaknesses, in insults, in hardships, in persecutions, in difficulties. For when I am weak, then I am strong."
We often think when we get picked or when we arrive "there" or when we achieve our most ideal self, then we will be our most influential self. Then we will be who God called us to be and in the meantime, we just keep striving and trying to get better.  What if we were really at our best when we were our weakest? What if we stopped striving for our ideal self and realized when God saved us, it changed everything. When we were at our worst Christ died for us and this is where our freedom lies. This is where we operate with grace and freedom and humility. When we realize it is not about me or about becoming my ideal self, but instead it is about staring at the face of God and walking in the divine role He gave us as bearers of His image.
As the speaker closed out her session, I stood there with tears in my eyes. This was the point. The striving, the soul-crushing pace I operated at, the hustling had gotten me nowhere, but tired, lonely, and feeling even farther from where I wanted to be. But the goal should not be to reach this version of my ideal self. The goal should be to stare at the face of Jesus. This is where I find my peace and rest and acceptance. This is where I find approval and purpose. Not in the striving, not in the outside things, but in the most important thing-Jesus.
Hence the disaster of my kitchen. I had spent the better part of the day resting and praying and studying my Bible. My kitchen didn't look like that when I went to bed that night, but it was nowhere near ready for a magazine photo shoot. And honestly it may never be. Because as I left the conference, I left my ideal self in the trash and came home with more peace and purpose than I have had in a long time.