Growing up, the term missionary was reserved for a group of people who left the comforts of America to go serve a foreign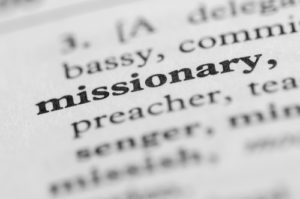 people group. I believe God calls people to serve in remote parts of the world and missionary is a very accurate term for them. As a church, we should support and pray for them and continue to send people around the world to serve. But this Sunday, the pastor at my church asked us to consider the fact we were indeed all missionaries.
If Jesus is Lord of your life, you are part of the mission of God. You are a missionary.  Over and over in scripture, we see God as a God of mission and purpose. He is on a mission to save the lost. And His mission is not reserved for a specific class of people. Matthew 28:18-20, often referred to as the Great Commission asks us to go and make disciples of all nations. Your community is very much a part of all nations and the charge to go and make disciples is not reserved for the few who go, but it is a charge for all who claim to follow Jesus.
Matthew 28: 18 Then Jesus came to them and said, "All authority in heaven and on earth has been given to me. 19 Therefore go and make disciples of all nations, baptizing them in the name of the Father and of the Son and of the Holy Spirit, 20 and teaching them to obey everything I have commanded you. And surely I am with you always, to the very end of the age.
Maybe you are a missionary called to your children's school. Or to your workplace. Or to your neighbors. Wherever God has called you to live and serve, there is your mission field. This is your "all nations."  What would our communities look like if we all stepped into the role and calling of missionary?
The tough part of being a missionary is you must carry a message. A message which some find rude and ignorant. The message of Jesus is hope and love. But it is also one of condemnation for those who do not believe. John 3:16-18 paints this picture clearly,
16 For God so loved the world that he gave his one and only Son, that whoever believes in him shall not perish but have eternal life. 17 For God did not send his Son into the world to condemn the world, but to save the world through him. 18 Whoever believes in him is not condemned,but whoever does not believe stands condemned already because they have not believed in the name of God's one and only Son.
Jesus is the answer, but how we communicate the answer matters. 
We did not get out of our condemnation on our own. We did not come to salvation based on our own merits. And we cannot carry a message with strings or requirements. I love how my pastor put it, " Jesus is our ultimate motive, not our ulterior motive." Perhaps loving those around you means they never convert. This does not change our charge as missionaries carrying a message. This does not change the heart we are supposed to have for our communities. And perhaps if we loved people simply because we are loved by Jesus rather than loving them towards conversion, this would change everything.
What does it mean to look at life as a mission field? How can we be people of mission here? Perhaps it starts with the same ways we would propose to be missionaries in foreign lands. We begin to pray for those around us, for our communities, for our leaders. We build relationships with the people in our lives. We survey the areas we live and assess the needs. And then we bring the message to our mission field. We bring it through our lives, our love, our service. We bring it by dropping off a meal to the neighbors or working hard in our jobs or encouraging our children to befriend the lonely kids at school. We see the mom in the drop-off line who needs some extra encouragement today or the neighborhood that needs a voice to help it find its own. Can you imagine how our cities might change if we all viewed them as mission fields? If we stopped complaining about them and started loving them. If we stopped taking from them and started giving to them. I believe it would be revolutionary.
Will you pray with me today and ask the Lord how to live our mission right here? How to step into the role of missionary in our own communities and how to carry His love to those around us?