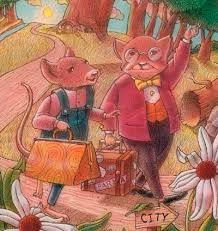 Aseop's Fables were some of my favorites as a child and the story of the city mouse and the country mouse ranked near the top. While I didn't grow up in a huge city, I am through and through a city mouse. My dream for the longest time was to move to a big city, sell my car, and live in a cute little studio apartment overlooking the busy streets. And then this city loving girl fell in love with a country loving boy.
This turned out to be handy when I moved into a downtown apartment and had mice. One night I perched myself on top of my couch, not on it, but literally on top of it, until my knight in shining armor, or boy from the country, came to rescue me from the tiny mice in my cabinet. Looking back, I am sure it was a comical scene and I feel very thankful he didn't leave me after this incident.
Fast forward 5 years and the country boy is now married to the city girl and recently bought her a farmhouse in the country. A farmhouse she fell in love with before she quite realized what moving to the country really entailed. Things like wells and septic systems and no internet and spiders and mice. However, I have always been one to love adventure so with full gusto I am embracing this adventure. Our beloved farmhouse needs a lot of TLC and I plan to blog about the transformation of both the farmhouse and of the city girl turned country girl.  Along the way, I hope to share with you the fun (and frustrations) of the giant Do-It-Yourself project house we took on as well as the lessons learned and mistakes made.
Subscribe to stay updated on all the excitement and stay turned for the first update!